Here's an interesting little tale that begins back in August, 2014, when the glass shown below first listed on eBay.
It's an etched barrel glass in rather sad condition with abundant evidence of wear, including a badly scuffed and worn inscription. It's hard to figure out what the glass is from the listing photo, but it reads: "I. Michelson / & Bros. / FINE LIQUORS". It was offered for sale by seller id candles-01, with an opening bid of $19.99. Given the condition, it's not surprising that the glass went unsold and it did not relist that year, at least not on my watch.
Just to give you a little history – I. Michelson & Bros. were located in Cincinnati, OH., with the company name dating the glass to between 1904 and 1916. The company produced several different glasses; I hadn't seen this variant before, but that's not unusual given how few pre-pro glasses are "listed" (i.e., featured in the old and new testament of Barb Edmonson's shot-glass bible).
Fast forward to June 19, 2019 and the glass relists with a different photo under the seller id jp-tech. Note that the wear pattern is identical. Wear patterns may get worse over time but they do not reverse, so they are as unique as fingerprints.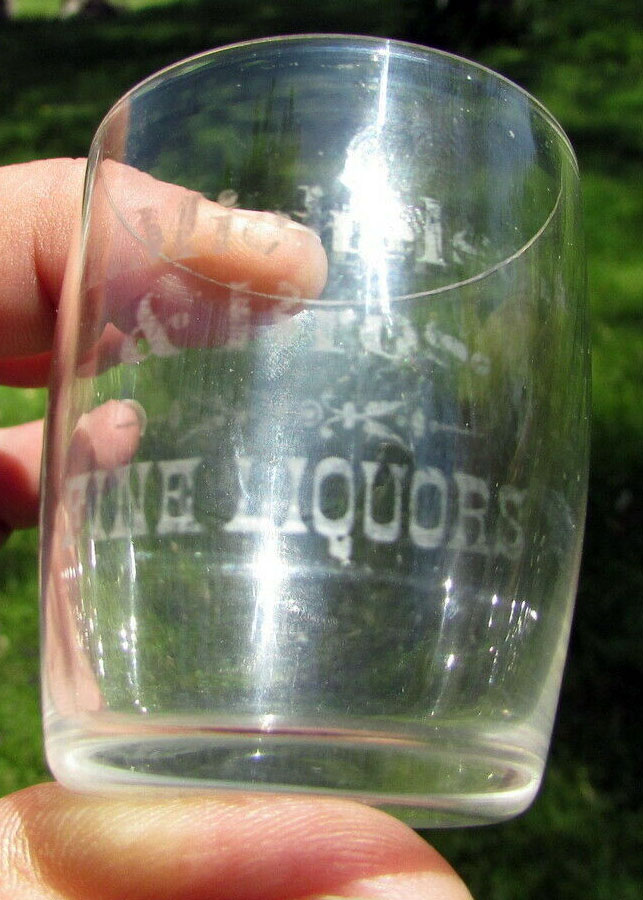 This time around it listed with an opening bid of $65 and it was jumped on the next day by bidder id i***d. Six days later, it was sniped in one by c***k and sold for $87.78.
So what the heck happened in 5 years that turned a $5 glass (an estimate based on origins and condition) into a $87.78 glass?
The auction title pretty much sums it up "UNLISTED Shape PRE-PRO WHISKEY Shot GLASS – I. MICHELSON & BROS 1904-16 TEXAS !!"
What happened was that Jack Sullivan wrote a blog post about the Michelsons that posted in April 2015. In his post, he noted that Abraham Michelson exited the firm around 1894 and set up on his own as A. Michelson, Wholesale Liquor Dealer, in Austin TX, which is presumably where the TX connection comes from.
The seller notes that "This glass was found just outside of Round Top, Texas during the last Warrenton/Round top antique weekend event so thats why I'm saying this glass is probably from the Austin, Texas area.", which is not exactly a reassuring provenance given that antique dealers travel the length and breadth of the country hopping from one show to the next during the course of the year.
Note that Abraham died from diabetes in 1903, which predates the "UNLISTED Shape PRE-PRO WHISKEY Shot GLASS – I. MICHELSON & BROS 1904-16 TEXAS !!" glass by a year.
Caveat Emptor.
Did I. Michelson & Bros. sell hooch in Austin in later years? Probably. Did The Hayner Distilling Co., and The Rieger Co., and The Schweyer Co., and hundreds of other national wholesalers sell hooch in TX? Probably. Are Hayner glasses TX glasses? I don't think so.
I know others may have contrary opinions, but imho a glass tracks back to the home base of the distiller and wholesaler, not the vendor. A TX glass is, by definition, inscribed with the name of a TX town or city, or with a brand name that is owned and registered by a TX distiller, wholesaler/rectifier, or vendor.