If we ever needed proof that VA collectors do not take pris0ners when it comes to beating out the competition for rare Commonwealth glasses, this auction is it.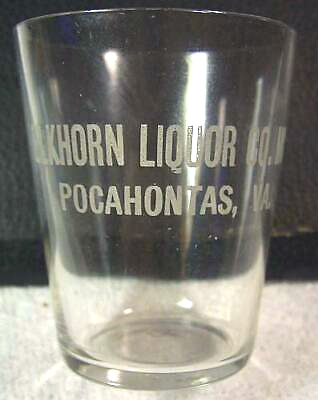 Judging by the overall style, I'm guessing that the glass dates to the late pre-pro period – maybe around 1917 or 1918? If we substituted "Chicago, IL" for "Pocahontas, VA", we'd be looking at a glass worth $15 on a good day.
The glass shown above was listed for sale by greek38 with an opening bid of $50; I'm guessing that the seller knew exactly what he/she had based on the high starting price. By the time the auction closed, it had been bid up to $257.09, which is impressive for a plain-Jane text glass such as this.
I've not seen an Elkhorn Liquor Co. Ltd. glass before, so it's definitely a rare one . The only other glasses from Pocahontas that I know of are a couple of L Lazarus & Co. variants, one of which is in the database. Hmmmm… maybe I need to increase my collector's insurance coverage this year…